My failed TV show pitches
In this episode, my idea to make a documentary series about New Zealand's worst obsession
Hello.
I hope your hellscape of a week is going okay. It's hard to know what fresh new horrors will appear each day.
This week I suppose it was that interview Kanye West did, in which he suggested vaccines were a "mark of the beast" and revealed more of his plan to run for president.
If that wasn't enough, we also had a bunch of QAnon followers convinced that Tom Hanks has died and been replaced by a body double.
With that in mind, today I was reminded of another terrible thing: TV shows I've pitched that were absolutely terrible ideas.
They didn't have a hope in hell of getting made, but hey - I tried.
Today I was reminded of one of this pitches when Jon Bridges posted this horrible photo of a human-carrot hybrid: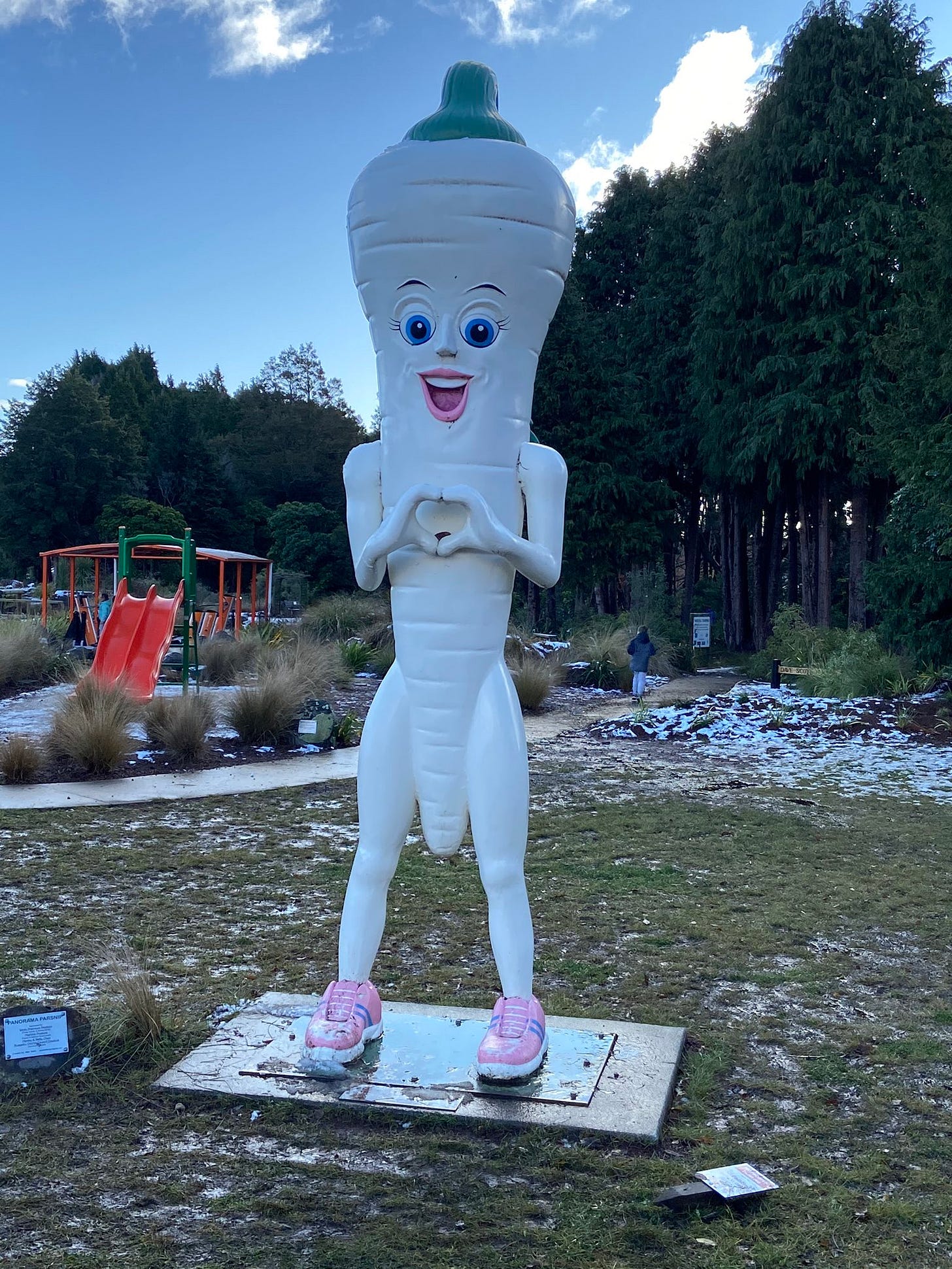 It reminded me of this show I'd come up with called Inanimate Aotearoa, which was set to document New Zealand's vast array of truly terrible statues.
I dug through my gmail account, and found the original stupid words I'd written about this stupid show. And I thought I'd share them with you.
---
Inanimate Aotearoa: a 6-part documentary series about New Zealand's obsession with dumb statues:
As you drive the length and breadth of New Zealand, you experience a dizzying array of landscapes, people, bugs, birds, roads, personalities, food, ideas, accents, rain, sunshine, bush and beach.
But one thing that remains a given: The town icon.
As New Zealanders, we have an amazing ability to choose an inanimate object that perfectly represents the town it's displayed in. One object that single-handedly captures the spirit of a town.
Or do we?
In this 6-part series, David Farrier will travel New Zealand to investigate our most well-known town icons… and our lesser known ones.
How did they get there? Are we happy with them? And what do they say about us, as a country?
Most importantly, David will meet the residents and find out what they think about the statue erected in their town.
He'll dive into the archives to find out how they got there. He'll meet the people who tried to tear them down and ask why they did it. And he'll follow people as they fight to have mascots erected in the middle of bustling town squares.
Who decides that a giant piece of fruit represents a bustling town in 2012? Or a giant trout?
Is the town icon simply a cheap marketing trick to put a small town on the map, or is it much, much more than that?
Episode 1 - Fruit and Veg:
To get in the spirit of the town icon, we begin our journey with New Zealand's most favourite icons, which happen to be vegetables.
Te Puke's kiwifruit and Ohakune's carrot are two of New Zealand's most iconic town, well, icons. How did they get there, and who looks after them? Most important - WHY?!
And they're not the only vegetables used to put towns on the map – Cromwell has done better than one piece of fruit, and gone for three, strangely all growing off the same stem.
Episode 2 - Birthing a Legend:
This episode looks at how a giant statue goes from an idea in someone's head to actually being made and placed in the middle of a town.
Hundreds of New Zealanders are wandering around with ideas for icons to put their town on the map. David Farrier meets some of the most passionate, like Dannevirke mayor Maureen Reynolds who wants a giant Viking to overlook her sleepy town.
Will their bids be successful? What are they competing against? And have they picked the wrong idea?
Episode 3 - Burn It To The Ground!
Not everyone is happy when a new statue goes up in a town.
Nothing could be more dividing when Hollywood came knocking at Springfield's door to drop of a giant fibreglass donut. The Simpsons movie was due out, and what better way for Paramount to get on the 6pm news than to give a small South Island town an icon? The mayor was happy, but the residents were not. They torched it, and it was replaced with a small tire painted like a donut. Then… a new one arrived.
Episode 4 - Woof! Moo! Baa!
Where to begin? If you thought New Zealand loved fruit and vegetables, we are bloody obsessed with animals.
Kaikoura's crayfish
Tirua's Sheep and Sheepdog
Hawera's Cow
Rakia's Trout
Lake Tekapo's Collie
Riverton's Paua
Gore's Trout
Clinton's Clydesdales
And like we found out in our last episode, they're not without their detractors:
Episode 5 - Fame:
Some of our most famous statues are people. But who are they? How the heck did Richard O'Brien end up as a statue in Hamilton?
Episode 6 - What Even is That?
What makes a statue? Does a town have to have a statue?
Things that don't quite fit – Katikati's mural town, Cambridge's flash toilets.
About 10 miles southeast of Carterton is Stonehenge Aotearoa, a lifesize recreation of the original. WTF is going on. Have we lost our minds?
And what about the recently unveiled statue in Nelson?
"A new six-metre sculpture in Nelson's Miyazu Park "screams danger" for young children who might climb on it and fall, says a resident."
What the hell, New Zealand?
---
And that was my TV show idea, circa about 2010. I'm curious what you think of it.
With New Zealand pretty much COVID-19-free, maybe this is my time to make it. Maybe someone can give me hundreds of thousands of dollars to bring my idea to fruition, finally.
Just kidding. This is a terrible idea, as terrible as Kanye West's ideas and the concept of Tom Hanks being dead.
I'd be curious to hear some of your terribly conceived ideas for films or TV shows (I won't steal them, promise).
I hope you all have a fantastic weekend.
I really fucking loved reading the smart debate under my Scientology vs QAnon piece. I am going to followup on some of the things you mentioned in the comments in a future newsletter. There is some real gold there.
I'm still doing discounted $5 (USD) per month Webworm subscriptions till July 15th — so if you want to dive on that, you can here:
Wherever you are in the world, Good afternoon, good evening, and good night.
David