I hope this finds you well. First up, a tiny bit of housekeeping.
Thanks so much for all your suggestions for a name for this newsletter, after I'd found out the New York Times had launched a podcast the same day called Rabbit Hole.
So, I've changed the name to Webworm with David Farrier.
Or you can just call it Webworm.
I like to imagine a little worm burrowing through the internet. It doesn't mean Webworm is just going to feature stories from the online world. Worms are out there in the real world, too — tunnelling through the soil seeing all sorts of weird shit when they poke their little worm heads up.
Now, let's get into it.
---
Back in mid-January, I got this message on WhatsApp from a number I didn't know:
I hadn't been to any parties recently, and certainly none in Pakistan.
Sophia didn't reply, so I messaged the personal number she'd kindly left me.
And ever since then, we've been messaging every second day or so. Her name changed from Sophia to Sofia. It's definitely some kind of con (I've saved the number as "Con"), but I have absolutely no idea what the con is.
We talk about absolutely nothing.
But over the course of this pandemic, as everything has become uncertain and scary, one thing has remained steady in my life: Sophia.
I find her messages calming. They're so vacuous and inoffensive, they're like a big fat cumulous cloud — you know, those light fluffy ones that are so peaceful to look at on a dreamy summer's day.
And I thought you might find them peaceful, too. So here is a selection of our messages over the last three months, as our friendship has blossomed into something special, beautiful and near-perfect.
(My messages are the ones in green. I kick things off):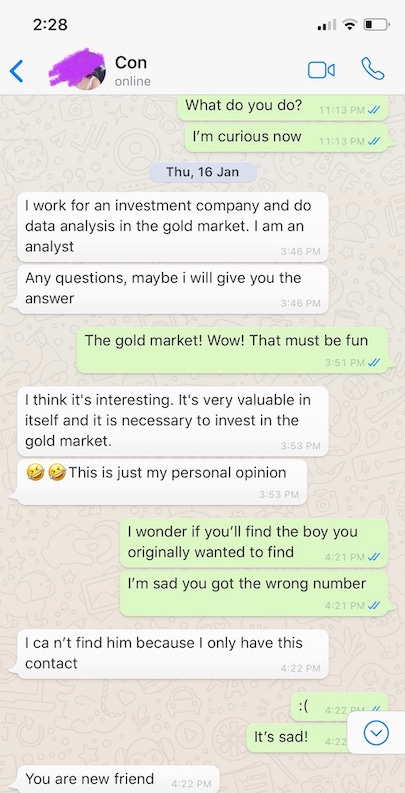 There you have it. I think you get the idea.
I like our relationship, and I've decided I don't mind if Sophia/Sofia is out to swindle me. I will be ready for that day.
What I would be furious about is if Sophia turned out to be a robot. I'd be a broken man, a husk; hollowed out by more than just this damn pandemic.
But I don't think she is a robot. She's too human for that.
I just asked her what she was having for lunch. "I haven't had lunch yet, and I'm still thinking about what to eat at noon," she replied.
"Maybe some chicken" I suggested.
"Chicken is a good choice. It is not easy to make me fat," she said.